Rhys Chatham, Jonathan Kane, DJ Elated System
SEPTILE
Septile is a trio which was founded in New York City in the summer of 1997 and consists of Rhys on trumpet, Jonathan Kane on drums and DJ Elated System on turntables. Here is the press release from their first CD single, which was released on the Ninja Tune / Ntone Label in February of 1998:

Cat. No (Form):
NTONE28 (12"), NTONECDS28 (CD)
Tracks: Domestik Life, Septile, Rotate, Bleach
Released: 23rd February 1998

Rhys Chatham switched from guitar in favor of electric brass at the start of the nineties. He sold his GLS by Leo Fender and released his debut album on fuzz trumpet, it was the acclaimed NEON CD for Ntone, which was co-written with Martin Wheeler. Now Rhys has teamed up to co-compose and collaborate with New York drummer Jonathan Kane and DJ Elated System, who hails from the Bronx, to form a new band called SEPTILE, which is the title of their new CD single for Ntone.

Although he is currently living in Paris, Rhys has a long history on the New York downtown music scene, from playing in La Monte Young's Dream House band at the start of the seventies with Terry Riley and Jon Hassell as well as being in Tony Conrad's group "Ten Years Alive on the Infinite Plain". Rhys was soon playing with his own minimalist guitar band at CBGBs, Max's, The Mudd Club and Danceteria during the late seventies and early eighties and began performing all over the world with drummer Jonathan Kane at the start of the nineties with his band of 100 electric guitars. Naturally enough, Rhys favors making his trumpet sound as much as possible like an electric guitar.

Jonathan Kane has bravely gone where no drummer has gone before. Currently with La Monte Young's Forever Bad Blues Band, he plays fiercely in a three hour tour de force. With Rhys Chatham's 100 electric guitar orchestra he is the only drummer and featured soloist. Hailed as 'Virtuosic' (N.Y. Times), 'Tireless Drumming Phenomenon' (Village Voice), 'Magnificent, Mighty'(N.Y. Daily News), 'Volcanic'(Rolling Stone), 'Extraordinary, Technically and Artistically Unsurpassable'(Espresso Sera, Italy), Kane also tours and records with a galaxy of new music luminaries including Gary Lucas' Gods and Monsters, Dave Soldiers Kropotkins (with Mo Tucker), Elliott Sharp, Tony Hymas (Jeff Beck, Jack Bruce) John King and many others, and he was a founding member of the legendary industrial group, Swans. He has also composed for dance, theater, and television.

DJ Elated System, aka Danny Hamilton, co-composer on the SEPTILE CD, is a helluva guy and hails from the Bronx. He has played with, among others, Billy Bang, Lee Ranaldo, Wayne Horvitz, Bad Brains; and Bobby Previte. Due to a lack of sense of humor on the part of his banker his email account was closed down, hence the brevity of this biographical submission, soon to be updated...

The name of the new CD on Ntone is SEPTILE. What is a septile, anyway? A septile is an astrological aspect, it's the angle formed when a circle is divided into seven equal parts; it signifies influences from the beyond or "otherworldliness". Says Rhys in his own words; "Our goal is to get in touch with our audience's spirit-body by creating a series of extremely repetitious, mind-deadening sounds. We find that by deadening, possibly destroying the intellect, you can actually make people feel. We attempt to make people stop thinking for as long as possible when they listen to what we do. We believe that, as time goes by, we stop people from thinking more effectively, at least that's what we hope."
---ooOoo---
Our operator is standing by to receive any queries you may have regarding Septile or any of the other material on this web site: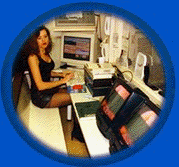 Contact us at: Rhys.Chatham@wanadoo.fr
If you are entering through an external hyperlink, click on Rhys Chatham Homepage for more info on Rhys.