Guitar Trio 40th Anniversary at the London Jazz Café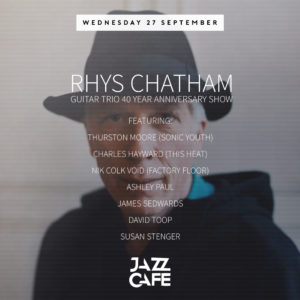 http://thejazzcafelondon.com/event/guitar-trio-40th-anniversary
Buy tickets here: http://bit.ly/27_09Chatham
A legend of the New York avant garde scene, Rhys Chatham's influence cannot be understated.
With an extended body of work that touches on everything from minimalism and no wave to experimental and punk rock, he stands tall alongside his contemporaries Philip Glass and Steve Reich.
For this special one off show, Chatham will be celebrating the 40th anniversary of his timeless Guitar Trio composition. With a single, repeated chord, Chatham permanently altered the DNA of rock by splicing the gritty, overtone-drenched minimalism of John Cale and Tony Conrad with the elemental fury of the Ramones.
While Guitar Trio in the 70s was performed with 3 electric guitarists, one electric bass and drummer, today's version uses six electric guitars (including Chatham), plus a drummer and bass player.
For this special occasion, Rhys has personally chosen a lineup of London-based friends and collaborators, some of whom he has been friends with since the inception of G3.
Rhys Chatham – guitar
Nik Colk Void – guitar
Thurston Moore – guitar
Ashley Paul – guitar
James Sedwards – guitar
David Toop – guitar
Charles Hayward – drums
Susan Stenger – bass
---
After the jazz Café engagement, Rhys Chatham will be playing an the following locations in September and October 2017:
Saturday – 30 September 2017 9:30 pm
Rhys Chatham Pythagorean Dream
at Freakout Club
Via emilio zago 7/c, Bologna 40128 Italy
---
Rhys Chatham plays Pythagorean Dream at the Freakout Club.
Sunday – October 1st, 2017 – 8:30 pm
Rhys Chatham Pythagorean Dream
at Santeria Social Club
via paladini 8, Milano, Italy
Rhys Chatham plays Pythagorean Dream at the Santeria Social Club.
—ooOoo—