Two day Guitar Trio workshop in Madrid on 25, 26 November 2017
at Matadero Madrid, Centro de Creacion Contemporanea.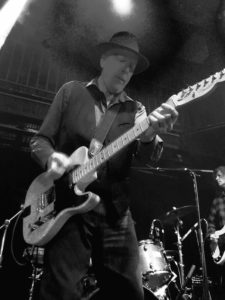 Details here (in Spanish):
http://www.mataderomadrid.org/ficha/7652/convocatoria-taller-de-guitarras-con-rhys-chatham.html
Rhys will be conducting a workshop explaining the special techniques and theory of his work, as well as instruction on how to play this seminal piece, Guitar Trio. The workshop will take place at Matdero Madrid, Centro de Creacion Contemporanea in Madrid, Spain on 25, 26 November 2017 and will culminate with a performance the day after the workshop.
Guitarists who play on a serious amateur level are welcome. The workshop is for amateurs who already know how to play guitar, and would like to learn the techniques used by Rhys Chatham.
Participants would need to attend the entire workshop on Day 1 in order to play in the performance on Day 2. Here is the content of the workshop:
Day 1
60 min – Introduction
Composer will introduce himself and talk about his history, working tactics, compositions, collaborations etc. leading into the composition of Guitar Trio, how it was composed, the history of the piece, how it works
30 min – Gear
Composer will discuss with the participants what guitars work for G3 and why acoustics, hollow body guitars etc. do not work. Talk about pics and sizes/weight, talk about choosing an amp for this, etc.
30-60 min – Tuning
Composer will talk about how to tune, how to work with a tuner, etc. Talk about special tunings in general and the different styles you work with for different pieces and specifically the G3 tuning. Will talk about overtones, how this relates to this piece etc. etc.
– Break –
1.5-2 hours – Playing Guitar Trio
Composers will work with the guitarist on how to play Guitar Trio
Day 2
30 min arrival / set up
2 hours – Playing / rehearsing G3 with live drummer and bassist
30 min – soundcheck
Performance
(Posted after the workshop, on 30 Nomber 2017)
Here is a nice video of the performances surrounding the workshop, including shots of the performance of guitar Trio at Matadero Madrid:
LA PLAZA EN INVIERNO 2017 from Matadero Madrid on Vimeo.
—ooOoo—