For European bookings you can contact
Pascal Tippex at pascal@julietippex.com
For worldwide bookings and general information
you can contact us at rhyschathamnews@gmail.com
Coming up next:
Robert Longo and I will again collaborate on the Eisenstein version of G3 (Guitar Trio). The date will be Friday, 28 September at 9pm.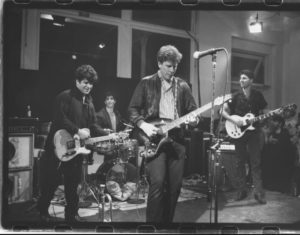 The performance will be at the Captain Petzel Gallery in Berlin in the context of the opening of robert's show there, entitled "Everything Falls Apart".
Here is a link to all the information:
http://www.capitainpetzel.de/exhibitions/everything-falls-apart/
and here is who will be playing:
Electric guitars: Rhys Chatham, Robert Longo, Knox Chandler, Julia Reidy, Robert Engelbrecht, Alexa Disaster.
Electric Bass: Alex Kozmidi
Drums: Olve Strelow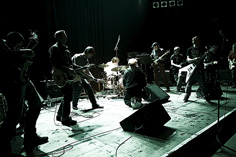 Most recent performance: my solo performance of Pythagorean Dream on Saturday, 22 September 2018 at the Fort Process Festival in the UK in East Sussex.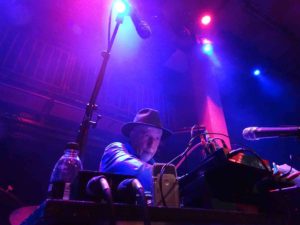 On this festival, among many wonderful acts, there was one of my favorite composers of electronic music, Ned Rush!
Here is the address: Newhaven Fort, Fort Road, Newhaven, East Sussex, BN9 9DS, United Kingdom.
Here is a link to the event: https://fortprocess.co.uk/rhys-chatham/.
And here is a link to the lineup:
https://fortprocess.co.uk/rhys-chatham/.
And now, for other news:
Every summer, my partner and I move our respective studios, my partner with her brushes and easels, me with my computers, Abbleton Live, Logic, Sibelius and Finale, and we go to the south of France and stay in a hamlet about 30km from Céret.
We had a great summer, which I spent working on a book about my years as a music producer at the Kitchen Center in New York during the seventies. I've been posting individual segments of the book on my FaceBook page.
In order to set a context for the issues that downtown composers were working on during the seventies I went all the way back to the birth of the twelve-tone row, tracing its development through serialism and post serialism. then moving on to early minimalism in New York, and finally recounting my adventures in Morton Subotnick's electronic music studio at New York University, when the studio was on Bleeker Street in Manhattan.
I left things there, and next week I hope to take things up again by writing about the first concerts we did at the Kitchen, when it was on Mercer Street.
After returning to Paris Ghédalia Tazartès and I have been working on a duo set, which we recently performed for the first time at a private and informal concert here in Paris.
I first met Ghédalia in New York, I think the last time I saw him in the flesh was at a concert at CBGBs in the late 70s, so when we first got together to work up a set, I wasn't sure what to expect, and it was for SURE that HE didn't know what to expect, as the last time he saw me it was with an electric guitar band at CBGBs!
Happily, our first rehearsal was absolutely magical, it was as if our music were made for each other and as if we had been playing together for years.
Fortunately, Benoît Lesieux was there to record it, here is a link to what he filmed:
For worldwide bookings you can contact us at rhyschathamnews@gmail.com
Rhys Chatham currently works with Julie Tippex
https://julietippex.com/roster/rhyschatham/
For European bookings you can contact Pascal Tippex at
pascal@julietippex.com