It's been a busy period filled with composing, rehearsals and concerts so I'm happy to report that in November, I'll be here in my studio in Paris, France and working on a number of projects.
Book about the Kitchen and the NY downtown music scene
in the seventies and eighties.
I've been working on a book about my years at the Kitchen Center in New York, having founded its music program in 1971 and producing many concerts there throughout the 1970s.
It was an exciting period that marked the beginning of the careers of such composers as Laurie Anderson, Philip Glass, Charlemagne Palestine and Steve Reich, all of whom lived in the vicinity of the same downtown area of Manhattan called Soho (short for south of Houston Street).  It was a period when composers coming out of a classical European tradition were breaking away from the characteristic atonality of the music we were making back then and exploring new avenues of music making ranging from electronic and psycho-acoustic music, aleatory techniques coming out John Cage's work and that of the Fluxus movement, to what seemed to be a reinventing of tonality within the context of music for small ensembles with what later became known as minimalism.
Once tonality found its way back into the spectrum of classical music in downtown New York, composers coming out of this tradition began pushing aleatory techniques to the limit, which lead them to break away from the rigidity of notated music, inspiring some of them to experiment with improvisation. Having done this, and having realized there was already an established current of music working with improvisation – namely African-American art music, otherwise known as jazz – the respective  musicians and composers began to mix things up and started playing with each other and in each other's performance venues, until it got to a point where it was sometimes difficult to tell who was doing what!
After people had just got used to the idea of downtown art music and jazz becoming amalgamated, some of the younger composers arriving on the scene were thinking, "Hey! Why don't we do this with rock?!" And then we saw a period during the late seventies where minimalist music got amalgamated with punk rock, of all things.
It was an interesting period, to say the least.
The book I'm working on explores what happened from the perspective of someone coming out of a western European classical music tradition , as well as someone who had produced many of the concerts as well as playing in them.  All to say I'm telling the story in my own words.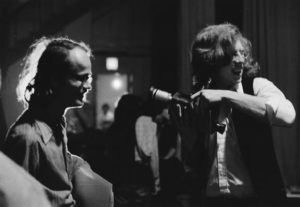 So I'll be working on that and posting some of the sketches for the book on my Facebook page.
You can follow along here:  https://facebook.com/rhys.chatham
I also have some new musical projects in the works.
New Duo with Rhys & Ghédalia Tazartès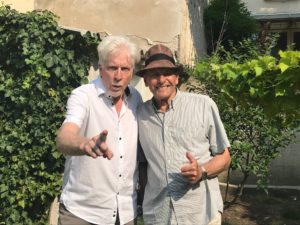 Earlier in the fall I played a private concert in duo formation with Ghédalia Tazartès.  We decided to work on a record together and have almost finished recording it, just one more 6-minute piece to finish, and then the album will be ready!
We are lining up performances of this duo for next spring, so if you are interested in having us come to your venue, by all means contact me at rhyschathamnews@gmail.com and I'll put you directly in touch with our agent.
Les 100 guitares
As you probably know, I have a full range of pieces for 100-200 electric guitars that we'd love to perform in a venue near you.  The description of those pieces can be found on this site under the heading of "Projects".
I have a new piece for 100 electric guitars that we performed last summer in La Havre, France.  The performance went well, in fact it was spectacular!  We performed the piece on the beach just by the Atlantic Ocean, and we were surrounded by bonfires, it was for the Midsummer Festival in Le Havre.  They even had flames spread across the stage, it was fantastic, and speaking of flames, I almost went up in one!  I got so excited conducting the piece that I didn't watch where I was going and stepped in one of the bonfires and almost literally went up in flames.  What a way to go! In any case, the piece went well, the city of Le Havre rented a hundred 100-watt Marshall amplifiers for us to go through, so there wasn't any problem hearing us over the sound of the surf.
I learned a lot through doing this new piece, so I'm re-working the score so that it can be played in an indoor location.  The piece doesn't need to be played through Marshall amplifiers, that was just an extravagance.  It will work fine with normal 50-watt guitar amps and the piece doesn't even need a sound system.  I mean, who needs a sound system if you've got 100 guitar amps on stage?!?!
So I'll be working on this piece also, and will have plenty to occupy me over the next couple of months.
After that, in January, I will be composer-in-residence of the music conservatory in Toulon, which evidently is the largest conservatory in France.  Associated with this residency, I'll be doing a number of conferences, workshops and concerts.  I'll be sure to post the dates as they become available.
That's it for this month.  I love performing, so do be sure to write us if you'd like to have any of my projects in a venues near you!
All the best – Rhys
Rhys Chatham currently works with
Julie Tippex Art & Music Agency
https://julietippex.com/roster/rhyschatham/
For European bookings you can contact
Pascal Tippex at pascal@julietippex.com
For worldwide bookings and general information
you can contact us at rhyschathamnews@gmail.com
—ooOoo—