Happy New Year 2019 to everyone!
I'll write more in the coming days but here are a few quick announcements about upcoming concerts, as well as contact and booking information:
Due to circumstances beyond anyone's control, I am no longer working with Front Porch Productions, at least for now, so if you would like to contact me or book any of my solo, duo or guitar orchestra projects, if you are in the States, please contact us directly at this address:
rhyschathamnews@gmail.com
If you are in Europe, I am working with Pascal Tippex at the Tippex Booking Agency, you can contact us directly at this address:
pascal@julietippex.com
For upcoming concerts,
I will be playing the Pythagorean Dream Solo at
La Ferme d'en Haut-Fabrique culturelle
Villneuve d'Ascq (near Lille)
Saturday, 19 January 2019
Tickets are reasonably priced at €8. Here is the website:
La Ferme d'en Haut-Fabrique culturelle website

Composer-in-residence
Conservatoire TPM
Toulon Provence Méditaerrainée.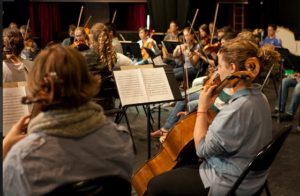 In January-March, I will be composer in residence at the big music conservatory in Toulon France, which is called Conservatoire TPM Toulon Provence Méditaerrainée.
New duo concert with Will Guthrie, plus a conference:
I'll be doing a conference/talk there on Saturday, 26 January at 6 p.m. entitled "New Music, New York", where I'll speak about some of the material that will be included in the book I am working on.
That evening, I will be presenting a new work at the Opera de Toulon (pictured just above) entitled Talisman, which is a duo for the percussionist Will Guthrie and myself at the Opéra de Toulon. I'll be playing transverse flutes, electric guitar and trumpet, with Will on various percussion instruments. I believe that the entrance is free if tickets are reserved in advance, but I will be posting more on that as the date approaches.
Here is the website for the concert with Will at the Opera:
https://metropoletpm.fr/agenda/rhys-chatham
Later in the year there will be three additional concerts in the south of France presented by students of TPM. I'll be participating in the performance either as conductor or as an instrumentalist. There will be a concert in Châteauvallon at Scène Nationale Olliques on 26 February. On Saturday 16 March, we will be playing at TPM in Toulon, and finally on Thursday, 28 March, we play in Sainte-Maxime in the Côte d'Azure, just next to Saint Tropez.
That's it for now, I'll be back soon if more updates.
Rhys – 7 January 2019