I'm totally psyched to play G3 at the Invisible Wind Factory in Liverpool!
(update: 15 March – Liverpool is having a Covid outbreak, unfortunately, the concert has been put on hold due to almost the entire staff of the the Invisible Wind Factory as well as some of the band members testing positive. )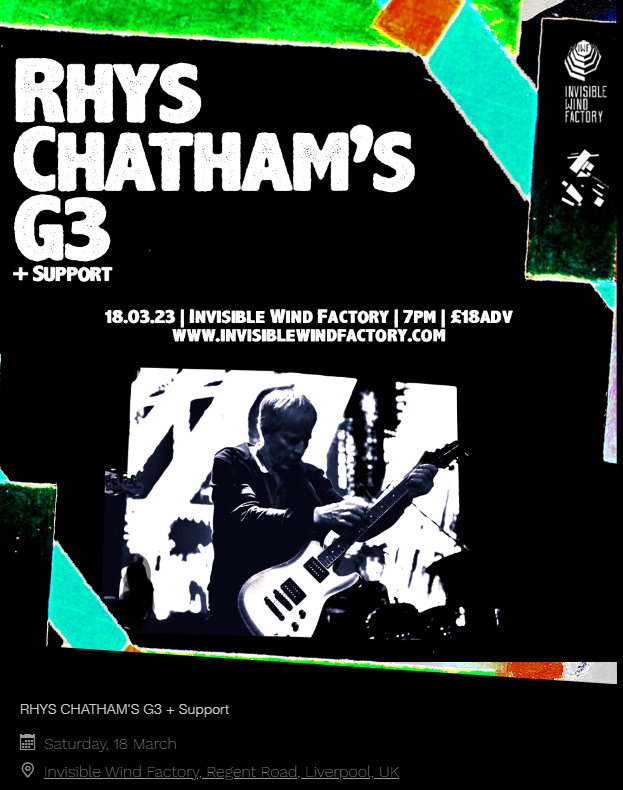 It's on Saturday, 18 March. Doors open at 7PM. For tickets and further information,
click here. (Concert cancelled due to Covid).
Here is the lineup of who will be playing:

On electric guitar:
– Michael Coates
– Stephen Cole
– Rhys Chatham
– Rhys Davies
– Anna Kunz
– Luce Mawdsley
– Sam Warren
– Claire Welles

On electric bass: Clara Cicely

On drums: Joel Murray
---
On Friday 24 February, 9PMI'm scheduled to play the full solo in an intimate location in Paris, at the Chair de Poule bar. Details to be announced on this page soon. Also an upcoming concert in the UK in March, soon to be announced.
Chair De Poule 141 Rue Saint-Maur, 75011 Paris – Friday, 24 February 9 PM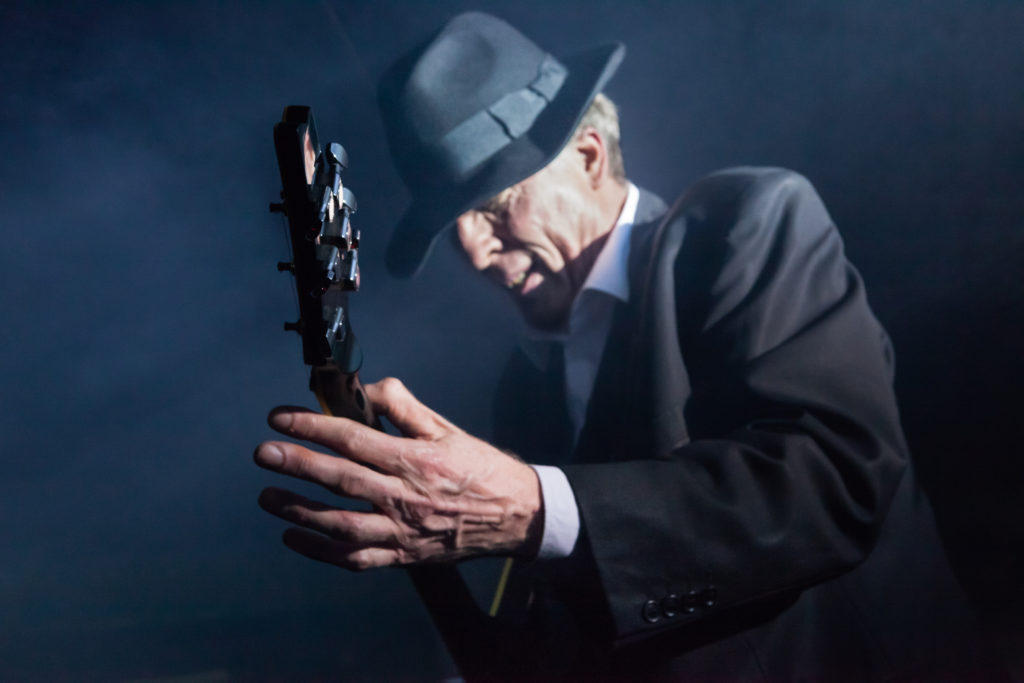 Après sa belle performance au Centre Pompidou dans le cadre du vernissage de l'exposition " Who You Staring At? Culture visuelle de la scène no wave des années 1970 et 1980 ", Rhys Chatham foulera avec majesté le sol brisé du Chair De Poule vendredi 24 février à 21h. Il nous plongera dans un espace immersif
au moyen d'un tout nouveau solo pour guitare électrique avec accordage pythagoricien, trompette, flûtes et sons électroniques.


Jauge limitée à 45 personnes!! Entrée prix libre (prix conseillé 10 euros) Merci de réserver sur cette publication, sur la page de l'évènement facebook ou via la messagerie du Chair de Poule.

photo: Sye Rynski
---
I seem to be making a habit of playing at art openings, this week I'll be at the Centre Pompidou in Paris in the context of an exhibition on the No Wave scene in New York entitled " Who are you staring at ? " The opening is on Wednesday 01 February at 7pm. I go on around 8pm.

I'll be presenting an excerpt from my new solo for transverse flutes (alto and C) and eletric guitar.
The exhibition will include art, posters, books and video by/on Kathy Acker, Ida Applebroog, Karole Armitage/me, Beth B and Scott B, Glenn Branca/Dan Graham, Vivienne Dick, Barbara Ess, Joseph Nechvatal, Raymond Pettibon and sound excerpts from Arto Lindsay, Live Skull, Sonic Youth and more.

There will be an excerpt playing continuously from XS, an opera by Joseph Nechvatal with music from yours truly.
For details on the exhibition, click here.
The opening was a success! It was well attended and a grand time was had by all. The artist Chrystel Egal was at the performance and made a little film to document it:
If you are interested in booking the new solo (or any of my other projects), you can contact me directly here. Or at my booking agency, Julie Tippex Arts and Music.