Biography
(La version française se trouve ci-dessous)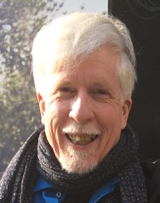 Rhys Chatham is a composer, guitarist, trumpet player and flutist from Manhattan, currently living in Paris, who altered the DNA of rock and created a new type of urban music by fusing the overtone-drenched minimalism of the early 60s with the relentless, elemental fury of the Ramones — the textural intricacies of the avant-garde colliding with the visceral punch of electric guitar-slinging punk rock.
Starting with Guitar Trio in the 1970s and culminating with A Crimson Grail for 200 electric guitars in 2009, Chatham has been working for over 30 years to make use of armies of electric guitars in special tunings to merge the extended-time music of the sixties and seventies with serious hard rock.
Parallel with his rock-influenced pieces, Chatham has been working with various brass configurations since 1982, and recently has developed a completely new approach to collaborations, improvised and compositional pieces involving trumpet through performances and recordings that started in 2009. Chatham's trumpet work deploys extended playing techniques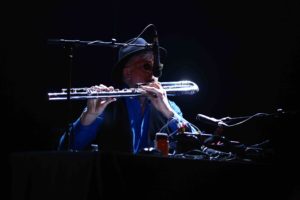 inherited from the glory days the early New York minimalist and 70s loft jazz period. Starting in 2014, Rhys has been touring a solo program featuring an electric guitar in a Pythagorean tuning, Bb trumpet, and bass, alto and C flutes.
Rhys was introduced to electronic music and composition by Morton Subotnick in the late 60s, and in the early seventies he studied composition with La Monte Young and played in Tony Conrad's early group. These composers are, along with Terry Riley, the founders of American minimalism and were a profound influence on Chatham's work.
Chatham's instrumentation ranges from the seminal composition composed in 1977 entitled Guitar Trio for 3 electric guitars, electric bass and drums, to the epoch evening-length work for 100 electric guitars, An Angel Moves Too Fast to See, composed in 1989… all the way to Chatham's recent composition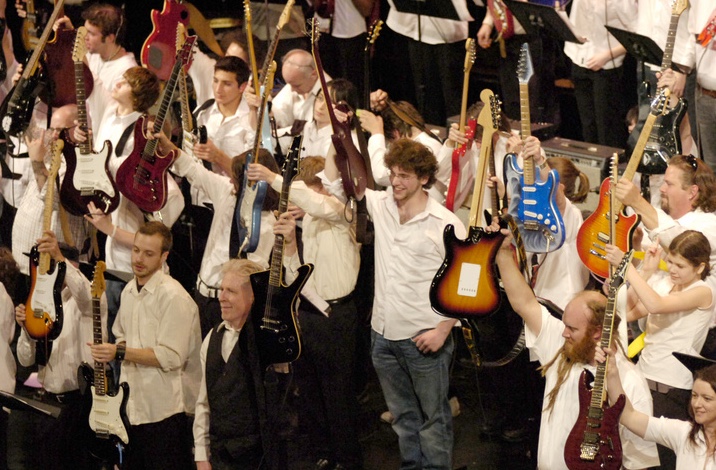 for 200 electric guitars, Crimson Grail, which was commissioned by the City of Paris for La Nuit Blanche Festival in 2005.  A completely new version of the piece was commissioned by the Lincoln Center Outdoor Summer Festival in 2009.
What does a composer do after mounting many performances with forces of 100-200 electric guitars?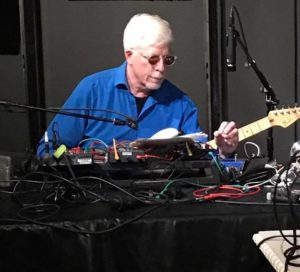 The composer gets back to basics, at least that's what Rhys does! Along with the G100 and G3 programs, Chatham is currently offering a solo program, an evening length work with the composer performing himself on electric guitar, trumpets and bass alto and C flutes.
—ooOoo—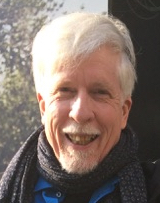 Rhys Chatham est un compositeur, guitariste, trompettiste et flûtiste de Manhattan, vivant actuellement à Paris, qui a modifié l'ADN du rock et créé un nouveau type de musique urbaine en fusionnant le minimalisme aux nuances du début des années 60 avec l'implacable, élémentaire fureur des Ramones – les subtilités texturales de l'avant-garde se heurtant au punch viscéral du punk rock à la guitare électrique.
Commençant par Guitar Trio dans les années 1970 et culminant avec A Crimson Grail pour 200 guitares électriques en 2009, Chatham travaille depuis plus de 30 ans pour utiliser des armées de guitares électriques dans des accords spéciaux pour fusionner la musique de longue durée des années soixante et seventies avec du hard rock sérieux.
Parallèlement à ses pièces d'influence rock, Chatham travaille avec diverses configurations de cuivres depuis 1982 et a récemment développé une toute nouvelle approche des collaborations, des pièces improvisées et de composition impliquant la trompette à travers des performances et des enregistrements qui ont commencé en 2009. L'œuvre de trompette de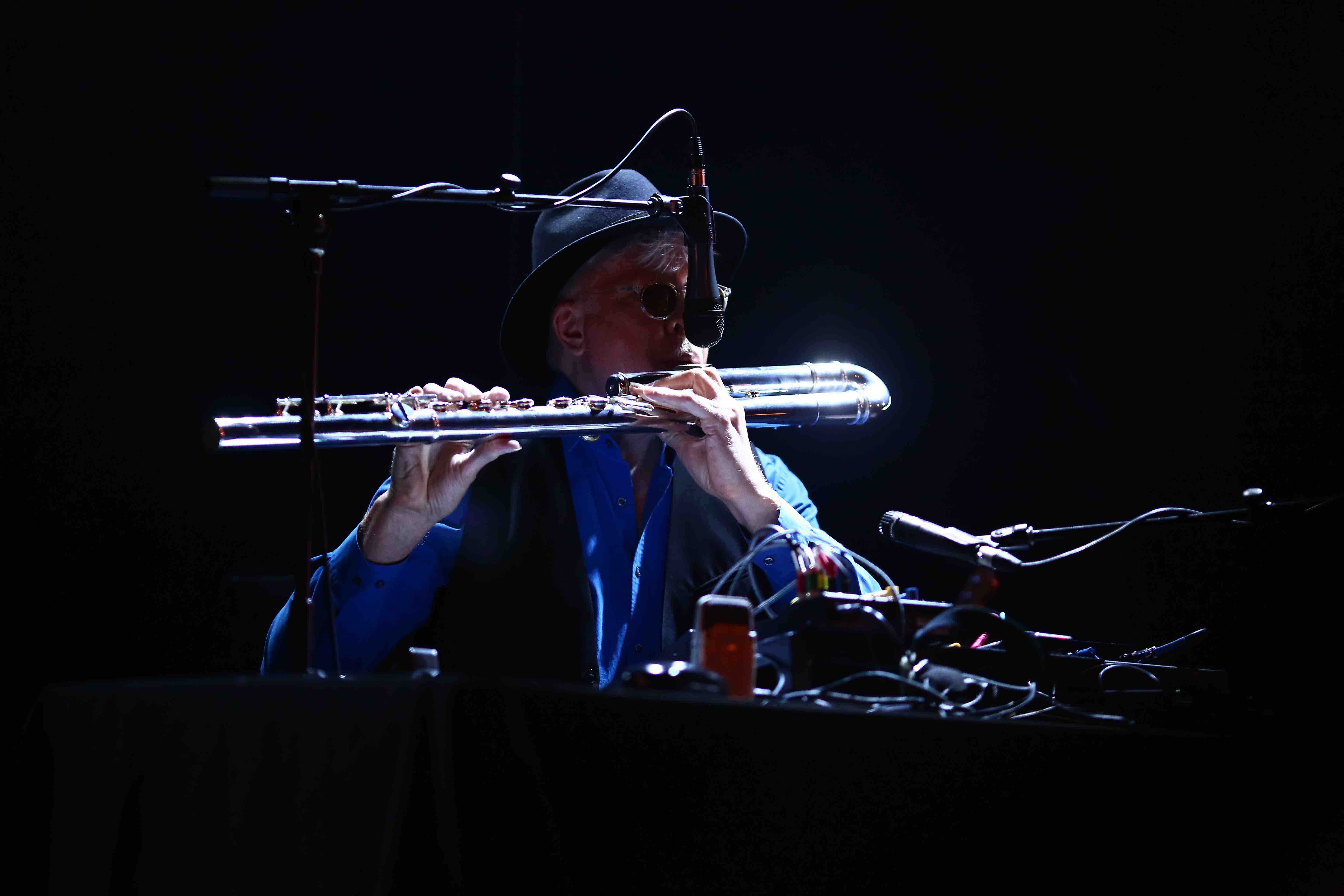 Chatham se déploie de manière prolongée. Techniques de jeu héritées des jours de gloire de la période minimaliste new-yorkaise et du jazz loft des années 70. À partir de 2014, Rhys tourne un programme solo avec une guitare électrique dans un accord de Pythagore, une trompette en Sib et des flûtes basse, alto et ut.
Rhys a été initié à la musique électronique et à la composition par Morton Subotnick à la fin des années 60, et au début des années 70, il a étudié la composition avec La Monte Young et a joué dans le premier groupe de Tony Conrad. Ces compositeurs sont, avec Terry Riley, les fondateurs du minimalisme américain et ont eu une profonde influence sur l'œuvre de Chatham.
L'instrumentation de Chatham va de la composition phare composée en 1977 intitulée Guitar Trio pour 3 guitares électriques, basse électrique et batterie, à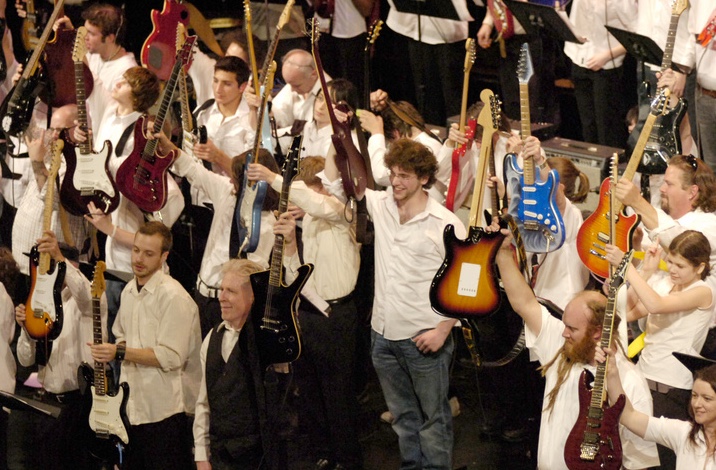 l'œuvre d'une soirée d'époque pour 100 guitares électriques, An Angel Moves Too Fast to See, composée en 1989 … tous le chemin vers la récente composition de Chatham pour 200 guitares électriques, Crimson Grail, commandée par la Ville de Paris pour le festival La Nuit Blanche en 2007. Une toute nouvelle version de la pièce a été commandée par le Lincoln Center Outdoor Summer Festival en 2009.
Que fait un compositeur après avoir monté de nombreuses performances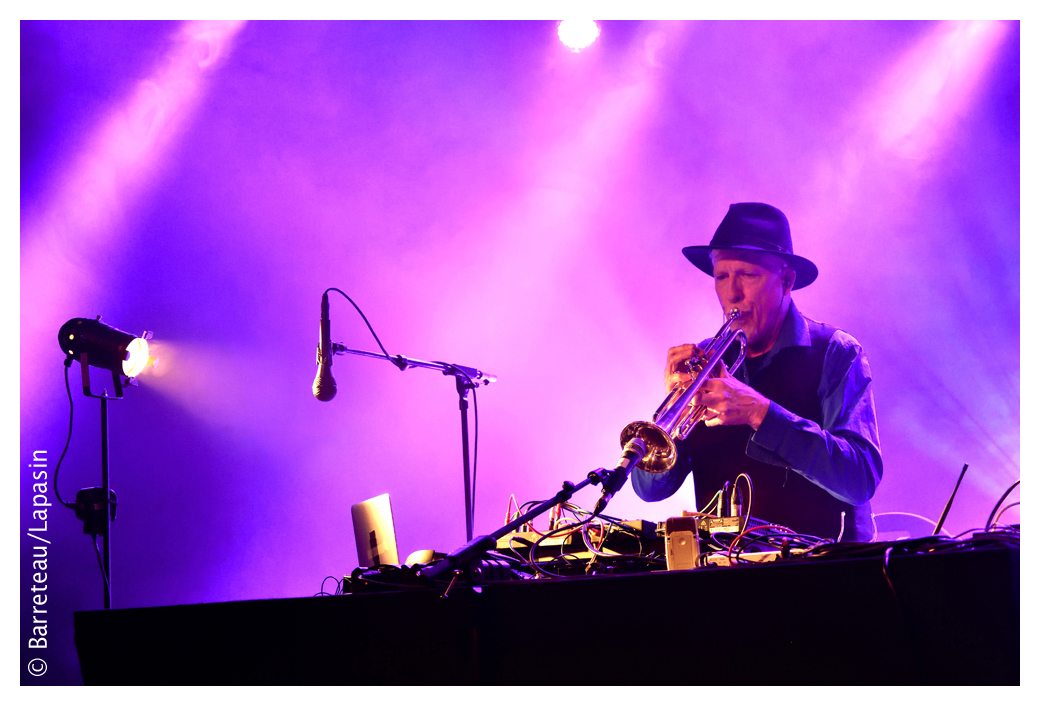 avec des forces de 100 à 200 guitares électriques?
Le compositeur revient à l'essentiel, du moins c'est ce que fait Rhys!  En plus des programmes G100 et G3, Chatham propose actuellement un programme solo, une soirée avec le compositeur se produisant à la guitare électrique, aux trompettes et à la basse alto et aux flûtes en ut.