A Crimson Grail
for up to 200 electric guitars, 16 electric basses and percussion.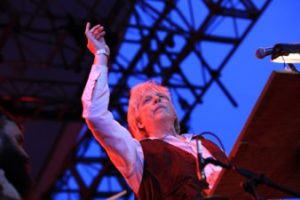 An antiphonal work for up to 200 electric guitars, 16 electric basses and percussion. Originally performed in 2005 at the Basilique of Sacré Coeur in Paris, a completely revised version was presented at the Lincoln Center Summer Outdoor Festival in 2009.
Rhys Chatham and his team come to the city of the performance and teach the music of A Crimson Grail to between 108-216 locally recruited musicians. The music is taught over three days, culminating in a performance.
The number of musicians needed for a realization of A Crimson Grail depends on the size of the space the work will be presented in. Antiphonal in nature, the musicians are divided into four sub-groups, who surround the audience in a "U" shape in order to exploit a "quad" effect, passing sounds from section to section, musician to musician.
Those attending previous performances of this work have described it as nothing less than life-changing.
Discography:
Nonesuch Records 524138-2 CD, MP3, September 14, 2010
Table of the Elements [Seaborgium] TOE-CD-106 – 2006

Rhys Chatham, the man who rocks the minimalist canon like a hurricane, gathers up the City of Light in the evanescent beauty of his latest piece, written for 400 guitars and performed live in the basilica of landmark Sacre Coeur, with an audience of 10,000 watching and 100,000 watching on TV. As the music shimmers, it offers a snapshot of eternity, an echo of a moment a thousand years to come – Jeff Hunt.
Excerpt:
Booking & technical enquiries: rhyschathamnews@gmail.com