Die Donnergötter
for 6 electric guitars, electric bass and drums
Rhys Chatham conducts Die Donnergötter (The Thundergods) for 6 electric guitars, electric bass and drums, working with locally recruited musicians. Chatham leads the local musicians in a series of rehearsals, culminating in a performance of Die Donnergötter and Guitar Trio.
Review from Bookmat: A classically trained musical prodigy, in the late 70s New York based Rhys Chatham began to experiment by fusing the academic minimalism of John Cale and Tony Conrad with the violent punk-rock of the Ramones.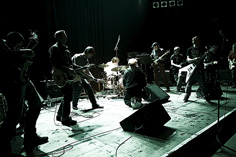 It doesn't really sound like a match made in heaven, but it worked somehow and in time his work has been credited with kicking off the No Wave scene. Die Donnergötter collects Chatham's best work of his early New York based period – the title track is an epic 22 minute looping no-wave exploration into guitar rock's abyss, and the excruciatingly forward thinking Guitar Trio is just as stunning to hear now as I'm sure it was way back in 1977. To think that someone was piecing together this incredibly diverse and unique music at a time when the Sex Pistols were struggling to pick out chords on their guitars shocks me, and I have Table of the Elements to thank yet again for introducing me to another crucial musical genius.
Excerpt:
Booking and info: rhyschathamnews@gmail.com