Rhys Chatham
Les 100 guitares
Trumpet Action
Home Page
Thank you for visiting the Rhys Chatham /Les 100 guitares/ Trumpet Action /
Home Page.
http://renaud.ls.free.fr/400guitares
Nous avons joué avec 300 guitares à Paris (1 octobre 2005)!

Cliquez sur l'image ci-dessus pour plus d'informations.
(For more photos of Rhys and Les 100 guitares, click here)
---
Rhys Chatham is a composer / performer from New York City now living in Paris known for rock-influenced compositions such as GUITAR TRIO (1977) to AN ANGEL MOVES TOO FAST TO SEE (1989) for 100 electric guitars, with a lot of other electric music in between.
Below is a list of various articles, essays and interviews you can download from this site as well as hyper-links to Real-Audio sites where you can listen to some of Rhys' music.
Click on any of the following links (which are on this web site) to find out more about Rhys' projects: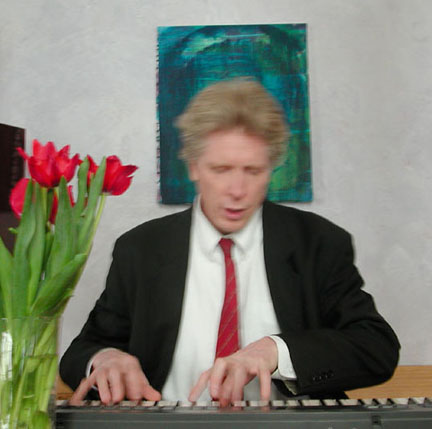 Rhys Chatham - Paris, April 2003
photo from performance of : 3 Aspects of the Name - New release from the Table of the Elements Records
Description of the links:
4/99 - Wire Interview with Rhys Chatham by Rob Young
A feature by Rob Young based on this transcript appeared in The Wire 182 (April 99).
Why I Switched to Trumpet is a recent statement from Rhys on why he switched from electric guitar to fuzz trumpet. .
Essays: French/English contains bilingual essays in French and English by Rhys Chatham which have appeared on the internet discussion group called Forumhub, moderated by Jérôme Joy.
Composer's Notebook1970-90 are Rhys' experiences in NY from 1970-1990 and covers his days as co-founder / music director of the Kitchen Center in New York as well as his adventures on the no-wave rock scene: CBGBs, Max's, the Mudd Club, Danceteria, Tier 3 and more...
Les 100 guitares contains a description of our concert for 100 locally recruited guitarists playing Rhys Chatham's evening-length composition: AN ANGEL MOVES TOO FAST TO SEE. It also contains a list of all the locations where we have mounted the piece. A partial list of the 1600 guitarists from all over the world who have played in the piece is displayed; completion of the list is projected for sometime soon in the future.
Dead Angel 1996 Interview is an interview with Rhys by Dead Angel Magazine made in the autumn of 1996 and covers his current work with trumpet and guitars as well as tracing the origins of American minimalism.
HardEdge Trio is a new musical configuration that came out of the Hard Edge CD (The Wire Editions, see below). the trio version consisits of Rhys Chatham on trumpet, Pat Thomas on keyboards and Apache 61 on electronic grooves. Contact info for booking included in description.
Older Essays contains two short essays by Rhys: "Is Rock Dead" and "Boulez vs. Stockhausen" and include reader responses; also the opportunity for real-time interaction with the composer.
Septile is a brief description of the February 1998 NTone release of the same title with Rhys on trumpet, Jonathan Kane on drums and DJ Elated System. .
Rhys Chatham and Martin Wheeler contains statements on their 1996 NEON CDS release on NTone.
Short Bio is a short, dry bio covering Rhys' musical life up to 1997.
Composition Catalog is a catalog of Rhys Chatham compositions from 1968 to 2005. Periodic updates will follow. It lists the composition titles, dates of completion, duration and the names of the musicians participating in the first performances.
Released (released in May 2003)
on Table of the Elements: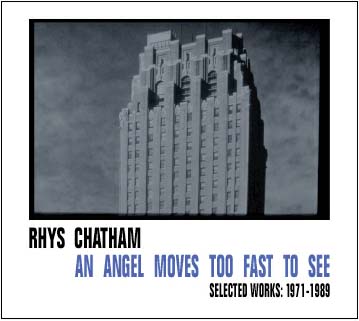 Rhys Chatham
An Angel Moves Too Fast to See:
Selected Works 1971-1989
(3xCD boxed set)
For more info, click on building icon (above), or go to:
http://www.rhyschatham.com
Last trumpet release (1999): A Rhys Chatham trumpet CD was released in April of 1999 on the revitalized Wire Editions Label. The Wire hooked Rhys up with some of London's most fiery and dynamic improvisors: "stereo guitarist" Gary Smith, keyboardist/sampler Pat Thomas, bassist Gary Jeff, and drummer Lou Ciccotelli (of God/Ice fame).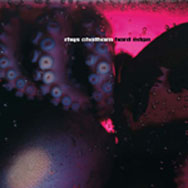 To visit The Wire's excellent and informative web site, which has got lots of articles and many links vital to those interested in new music of all kinds, click on THE WIRE Home Page.
More new trumpet music from Rhys can be heard on the London-based Ninja Tune subsidiary, the NTone label. The last CD in this series is entitled SEPTILE (released in February 1998), made in collaboration with Jonathan Kane and DJ Elated System. A sample track can be heard on Real Audio by clicking on SEPTILE, which will take you to Ntone's Septile web site; you can also hear some of the tracks from the critically acclaimed NEON CD (released May 1996), made in collaboration with Martin Wheeler by visiting http://kalvos.org/chatham.html
You can contact Rhys Chatham by sending an email message.
To do so, click on azoth888@yahoo.fr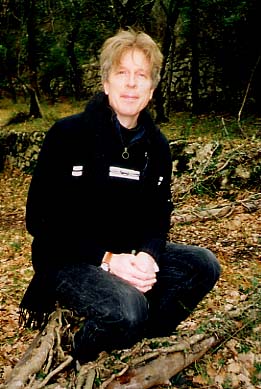 Rhys Chatham - Faïence, France - 1999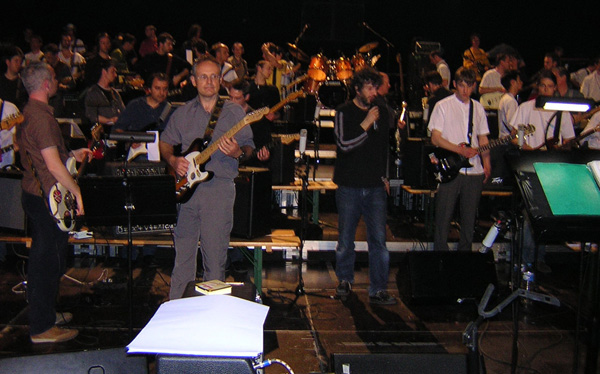 General rehearsal "Les 100 guitares"- Le Lieu Unique - Nantes, France 22 April 2004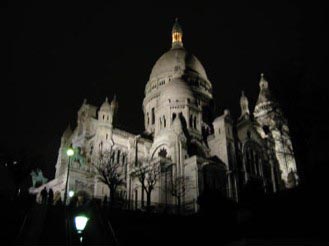 Nous avons joué avec 300 guitares à Paris à Sacré Coeur (1 octobre 2005)!
Cliquez sur l'image ci-dessus pour plus d'informations.
Upcoming projected performance for 400 electric guitars
at Sacré Coeur - Paris, France - 1 October 2005
pour la nuit blanche avec la participation de Carat Culture
For photos, films and sounds from concert, click here:
http://renaud.ls.free.fr/400guitares
(For more photos of Rhys and Les 100 guitares, click here)
Other sites of interest:
Contains photos, sound files and press reviews. this site is maintained by The Table of elements Recoords.
---
http://kalvos.org/chatham.html
Another interesting Rhys Chatham site on the WWW can be found on the Kalvos & Damian's New Music Bazaar WWW page. You can download actual sounds of excerpts from Rhys' pieces on this page as well as a great photo of Rhys by Paula Court. This site is a must for anyone interested in contemporary music and also contains pages for composers such as Laurie Spiegel (you can download a demo of her Music Mouse program on this site), Eliane Radigue, Dennis Bathory-Kitsz , David Gunn and many other interesting and important new music composers. To visit the site, click on http://kalvos.org/chatham.html
Thanks again for visiting our Web site, come back soon to check out other updates!

These pages were last mucked about with on 19 January 2006.